Standard Power Units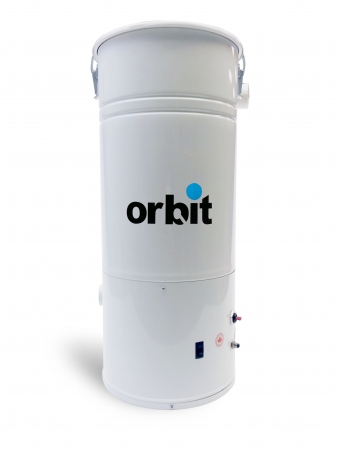 SU100 - COMPACT
Standard Power Unit
Ideal for smaller homes, condominiums, townhouses, or apartments up to 2,500 sq. foot (250 m2).
Physical Dimensions:
Height 27 inch (70 cm) Diameter 11.25 inch (29 cm)
Performance:
2-Stage, 120v, 5.7" single speed, bypass with double ball bearings.
Air Watts: 520
Air Flow: 121 CFM (Cubic Feet per Minute)
Water Lift: 125 inch H2O
Features:
Bypass Blower Motor Separate cooling fan system will maintain motor magnet and armature temperature vastly improving reliability.
Manual on/off switch Printed Circuit Board Control Panel
Construction:
All steel construction (34 lb.) 16 litre (4 US gal.) dirt pail - 11.25" dia. X 27" height.
Filtration:
Disposable Hepa Filter bag with 99.98% Filtration Efficiency. Inexpensive and hygienic collector, normally needs to be replaced 2 or 3 times/year.
Finish:
Environmentally friendly Electrostatic Powder Coat Paint. All Orbit Power Units are guaranteed for life against corrosion perforation or any structural defects.
Warranty:
10 Year all parts, including motor, electronic control, filter. Life-Time on the Canister.